Top Dogs
Mindy
Candlewoods Yellow Flower MH
Candlewoods Nifty Nick QAA x Candlewoods Sar'N Dippity
June 23, 1986 – November 2, 2001
OFA: Excellent
CERF: Clear
From the beginning, Mindy was precocious beyond words, excelling at all the Field Trial game had to offer. Before she was 20 months old, Mindy was running Derbies, Qualifying Events, Opens and Amateurs. In 1988 she won 5 of the 7 Year's End Trophies awarded by the Mid-Illinois Retriever Club.
In 1989 we turned Mindy's talents to hunt tests and she earned her Master Hunter title without ever running a Junior or Senior. Mindy had never worn an electric collar. She rarely failed a test and received many a standing ovation from the gallery. Mindy was one of the first retrievers to be named to the Backwater Retriever Club Hall of Fame.
She was simply one of the finest gundogs we've ever owned and to this day she was the very best dog that I have ever seen run in competition, no exceptions.
Mindy whelped 5 litters, sired by some the top Field Trial/Hunt Test stud dogs available, and she produced a number of outstanding pups.
Mindy was laid to rest on November 2, 2001 at the age of 15. We will never forget her.
Haley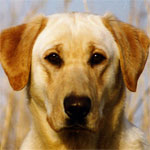 Haley stood out from the beginning as a bold and outgoing puppy. She sealed her place with us by running across the yard and leaping over all her littermates to get to Bill who was kneeling to do a group "hello." Haley took to training quickly and enthusiastically and loved to retrieve from the start. She was never force-fetched and was only collar-conditioned to correct a "rolling whistle stop." Like her mother, Mindy, Haley was a natural: easy to train and easy to run.
Haley quickly earned Junior, Senior and Master Hunter titles and passed 16 out of 19 Master hunt tests before being taken out of the training rotation. Two of her three failures could be attributed to "handler error", the complacency that too often sets in when running a great dog.
Haley was retired from our breeding program after producing 6 litters of great puppies, and she occasionally ran a Master Hunt Test until she was eleven.Like her mother, Mindy, Haley is a member of the Backwater Retriever Club Hall of Fame. Her daughters, HRCH Blindfaith's Ruffian MH ("Ruff") and Blindfaith's Ain't No Foolin' ( Ripley) along with many other offspring are now doing their best to follow in her footsteps.
When Haley was a youngster running a senior the two judges asked me where I bought my rocket fuel. That was the way she was…full tilt, all the way, all the time. We failed a few but I was never embarrassed. As a just turned two year old running a spring master( Bootheel Retriever Club) being judged by that yearsMaster National judges she was awarded two gimmick prizes, " Fastest to qualify"( a plastic race car) and " Youngest to Qualify"( a baby bottle).
Haley got her name when a female student of Bill's at Danville High School won a naming contest choosing the name " Haley" after Haley's Comet which was in the news at the time. She later named her first daughter Haley, after Haley, the dog!
A loving pet, enthusiastic hunter and a great competitor, it was a true privilege to know her and a rare honor to run her.
JC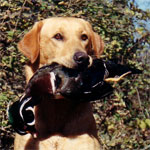 Harley's Just Crazy To Go MH
FC-AFC Wilderness Harley To Go x
Candlewoods Yellow Flower MH
JC was the last pup selected out of our first litter from Mindy. Like so many other great dogs in the history of Labrador retrievers, JC turned out to be one of the best. JC failed his first Junior hunt test during gale force winds with storm sirens sounding in the distance- then went on to pass 3 consecutive Seniors and 7 consecutive Masters, earning his Master Hunter title the day before he turned 2 years old.
Remarkably, JC was never force fetched and never wore an electronic collar. He was a great gundog and a great companion. His finest tribute came a few years ago when an elderly, experienced lab owner reminded Bill of JC and called him "the most awesome dog I've ever seen."
JC died in 2000.
Molly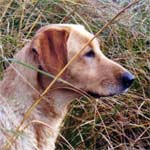 Blindfaith's Mindy's Miss Molly MH, MNH
Chelsea's Making Hay MH x
Candlewoods Yellow Flower MH
Molly was the first pick from Mindy's final litter. She was purchased by Bruce Foster of Granger, Indiana after a great deal of research and a number of phone calls to Blindfaith Retrievers. As often happens, Molly's fantastic abilities changed the course of Bruce's life, bringing him into the competitive world of labs as both participant and club officer.
Molly was Bruce's trusted friend and gundog. She quickly earned her Master Hunter title and was one of the first dogs to earn the title of Master National Hunter.
Tragically, Molly died giving birth to her only two pups, but she is remembered fondly at Blindfaith Retrievers where a beautiful photograph of her hunting ducks in North Dakota hangs in our living room.
Molly's two puppies, Mindy and Charlie, happily survived to make their home with Bruce and Sandy Foster.
Boomer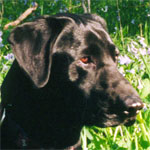 Blindfaith's Boomerang JH
December 3, 1998 – November 19, 2012
Boomer was the last and smallest puppy from the first litter we had after we got married in June of 1998. He had originally been sold to a family in east central Illinois, but his sale fell through when their circumstances changed. We decided to keep him for ourselves after noticing a number of fine qualities in the little guy.
Boomer earned his keep at Blindfaith Retrievers as a public relations specialist with his wonderful temperament, spirited retrieving abilities and his beautiful shiny black coat.  He was our ambassador! Visitors to our kennels inevitably pointed to him and say, "I'd like to have that dog," especially after they watch him interact with their children. Boomer went by many names…Boom, The Boom, B, B-Buddy and a few les often used and faded from memory…
Boomer weighed 70 lbs. and he was absolutely never  for sale.
Marcia and I have decided that the best tribute to Boomer comes from my favorite song by Tina Turner. Boomer was " Simply the best, Better than all the rest"! He was the embodiment of what a good dog should be and we, and everyone else, loved him dearly. He will be missed everyday as we watch his relatives make their way through our lives….see you later Boom!
Buster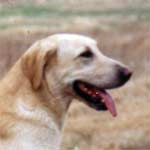 Blindfaith's Brushbuster MH
Manns Hongry Jax MH x Candlewoods Yellow Flower MH
Buster was raised by Blindfaith Retrievers and sold to Tim Busby as a two-year-old. Tim originally purchased Buster as a gun dog, but was quickly hooked by the hunt test game. Buster's marking ability was nothing short of awesome. He earned his Senior Hunter title and had four out of the necessary five Master passes for his final title when Buster was hit by a truck. A six hour surgery by Dr. Brad Cooper put his hips back together. Another surgery at the University of Illinois Veterinary Clinic brought him back as good as new. Things had looked bleak for awhile, but- with a lot of care from the Busbys- Buster was able to recover sufficiently to go on to earn his Master Hunter title.
Buster was christened Brushbuster as an 8 week old pup when , without hesitation, he crashed through a thick line of willows in order to make a water retrieve. That tenacity was a trademark throughout his life.
Sadly, Buster passed away on February 27, 2007 after brightning the lives of all who knew him. Buster spent many happy days retrieving doves and pheasants near THE CRIB and mingling with the many hunters who came to enjoy the great shooting and hospitality. Mindy and Jax, along with his siblings and offspring, will be happy to welcome Buster at THE BRIDGE where he can continue to painlessly romp and play until his beloved Tim shows up to give the "Back" command again.
Buddy and Maggie Skelton
Buddy and Maggie Skelton live in Alamagordo, New Mexico at Holloman Air Force Base with Mandy and Pat Skelton. Buddy is a Blindfaith Retrievers pup who resided with us until he was 16 months old. Bill's surgery for prostate cancer prompted us to cut down our number of dogs and Buddy went to a new home with a pair of favorite relatives. Mandy and Pat had already owned Maggie, a chocolate lab of vague pedigree, who nevertheless possesses some of the best qualities the breed has to offer.
Buddy and Maggie are superb pets and beloved companions. They keep Mandy company when Pat is overseas on temporary duty; they travel with them on vacations; and they dress up for holidays! If Pat ever has time, Buddy will make him a fine gundog.
And Maggie, will just always be Maggie, which is more than enough.
Pic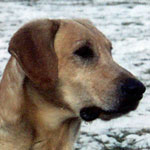 Blindfaith's Pick a Blue Moon MH  ( Deceased)
 December 5, 1997 – November 1, 2010
2xNAFC-FC-2xCNAFC-CFC Ebonstar Lean Mac x
FC-AFC-CFC Cody's Caraway Kate
OFA: LR-101870E24M-T(EXC)
CERF: LR-22282/2002–51
CNM: Clear     EIC: Carrier
Download Pic's Pedigree (403 KB PDF)
We selected Pic from Brad and Sonya Bowyers' kennel in Georgia in the middle of January, 1998. After a long, cold trip to Illinois, the then seven-week old puppy literally fell asleep in mid-stride while playing in the living room. It was the last time we can remember that Pic ever "quit."
Pic earned his Junior Hunter and Senior Hunter titles quickly, then spent a year and a half with Ray Weaver of Bittersweet Kennels in Bristol, Indiana. Ray began working on Pic's Master Hunter title in 2002 and Pic earned it in October of that same year. Heartfelt thanks go to Ray and Kathy Weaver for their help and care.
Pic is an especially accomplished pheasant dog and has an intense desire to retrieve which seems to be equally evident in the puppies he has produced. Pic has proven to be an excellent stud and has sired more than 40 litters at this time. His pedigree is one of the finest in the retriever world, featuring especially strong bitch lines. For any of you worried about Pic's age he just (July 2008) sired a litter of 11 pups with a female 9 1/2 years old!
Pic weighs 75 lbs. and is medium yellow in color. Pic's stud fee is $500.
Pic passed away after a brief but untreatable illness. We will miss Pic who was the first puppy that the two of us purchased together. Until we next meet, Adios Picmeister.
Meg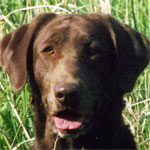 Blindfaith's Nutmeg Star SH, Retired
NFC-AFC Storm's Riptide Star x Hillviews Molly McCoy
November 17, 1996 – July 21, 2011
OFA: Good
CERF: Clear
Download Meg's Pedigree (360 KB PDF)
Meg was purchased as a 7 week old pup from one of the first litters sired by NFC-AFC Storm's Riptide Star ("Rascal"). The breeding had occurred prior to Rascal winning the '96 National, so the price was a steal. We had avoided chocolates over the years but decided to take a chance since the pedigrees were predominantly black. It turned out to be a very wise decision.
Meg was a beautiful 70 lb. female with impeccable temperament and a tremendous desire to retrieve. She was an excellent, close-working pheasant dog and loved to hunt ducks and doves as well. In earning her Junior and Senior Hunter titles she impressed judges and galleries alike with her phenomenal water entry.
At a Junior Hunt test event for the Bootheel Retriever Club, Meg's performance in the water test drew an audible gasp from the gallery and a sincerely admiring expletive from one of the judges ("%$#&@!!!" – or something to that effect). We are pretty used to the way she launches herself into the ponds back home where we train, but we could hardly believe it ourselves. She sailed through the air, clearing an old log that was floating about 15 feet from shore. Every other dog had chosen to swim around it. It was a feat of such fearlessness and flair that it took our breath away – and it was as natural to her as her love of retrieving.
Meg only competed at the Master level one time due to time constraints and the demands of motherhood. She whelped 6 litters of pups with glowing results and she was an excellent mother in every respect. Children and adults alike were dazzled by Meg's wonderful disposition and her complete faith in humans.
Meg was dark chocolate and weighed 70 lbs.
Meg passed away peacefully on the morning of July 21, 2011 with Marcia and I at her side. She led a wonderful life and brought us many memories that we will carry with us until we meet her again. I'm sure that she can now see and hear as she did in her youth, run with abandon and romp with her friends especially the young friends in need of adult guidance. God speed, Ole Girl!
Ruff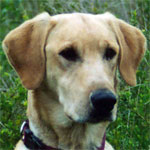 HRCH Blindfaith's Ruffian MH, Retired from breeding
FC-AFC Hilltop's Hayseed x Blindfaith's Renegade MH
 May 7, 2000-November 17, 2014
OFA: LR-125523G29F-PI
CERF: LR-32064/2003–40
CNM: Clear by test  ( White List)
EIC: Clear by test ( Univ of Minn. VDL Accession Number D08-051426)
Download Ruff's Pedigree (411 KB PDF)
Ruff was born in May of 2000 just prior to our move to Little Wappaoolah. She was our pick of a litter out of Haley( Blindfaiths Renegade MH) and Bubba( FC-AFC Hilltops Hayseed) that has done very well. One of Ruff's sisters is Nebo's Millenium Jade*** who is close to getting her FC-AFC, winning the open at Yuma ( 10-26-2007) and nearly winning the Am. Ruff's training suffered some setbacks due to the many problems inherent in building a new house, kennels and farm from scratch. In spite of the delays, she quickly obtained her Junior Hunter title. We began running her in Senior, took some time out for her first litter of puppies, and were pleased to have her finish her Senior title with three straight qualifying scores.
Ruff is an exceptional upland dog and hunts pheasants with great exuberance. She is affectionate and eager to please. Ruff weighs in at 60-65 lbs. and is medium yellow.
Ruff has had 6 beautiful litters of puppies and in each case performed all of her matronly duties perfectly. Ruff is very stylish and an excellent marker. She earned her UKC HRCH title in early October, 2005  and then her AKC master title in late October,2005. She had a great year and ended 2005 by being bred to Pic for a repeat of the breeding of one we did for her first litter two years ago.  Ruff was bred to Pic once again in 2007, picking up a few additional master passes before and after the litter. She was bred to Riparian Windfall*** for a spring 2008 litter and to our Morgan for a winter 2008-9 litter. One of those puppies, True, owned by long time pro, Paul Shoemaker of Washington state won a field trial puppy stake the day he turned 3 months old!! No collar, no lead and delivered to hand!! WE WILL repeat the breeding for Ruff's last litter and we will be keeping a yellow female.
Ruff needs two master passes to join her mother, Haley, and grandmother, Mindy, in the Backwater Retriever Club Hall of Fame.
Maggie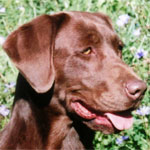 Maggie was one of our own pups, born on our farm in July 2001, and she certainly took after her mother, Meg. Like Meg, Maggie was wild to retrieve and had a water entry that could rival many a "Big Air" dog on ESPN. Maggie was very stylish in and out of the water. Her temperament was an extraordinarily happy one and she was very loving and affectionate. Maggie was a fine upland gundog, working close and retrieving with gusto.
Maggie weighed 70 lbs and is a deep, shiny chocolate with golden eyes. She had a beautiful head and a wonderful "otter" tail. Maggie was probably the best looking lab we've ever had and her puppies have followed suit.
Maggie  had five litters (December, 2004, June 2006, August 2007 , July 2008 and March 22, 2009). The puppies were beautiful and she was a great mother in every way. Maggie was to continue her handling work along with our other dogs and then spend the rest of her days hunting and raising beautiful lab puppies that bring happiness into each and every home they enter. Unfortunately Maggie passed away on December 10, 2009 after a short illness. We are content to know that she waits for us at The Bridge and that she is enjoying hiding in the deep grass, waiting to chase some unsuspecting canine friend who comes close. Till we meet once again, Adios, Maggadocio.
Ripley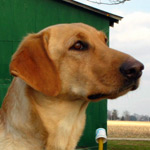 Blindfaiths Ain't No Foolin'  ( Ripley has been sold)
DOB: April 1, 2007
Blindfaiths Pick A Blue Moon MH x HRCH Blindfaiths Ruffian MH
CERF: LR-50850/2008–18
OFA:  LR-182506E27F-VPI; LR-EL44031F27-VPI
CNM: Clear (by parentage)
EIC: Carrier
Download Ripley's Pedigree (18 KB PDF)
Ripley is a big (70 lbs ), stylish young yellow female who began her hunt test career in the junior at Central Kentucky on October 27, 2007. Ripley passed her first junior at the ripe old age of 6 months 27 days, by far the youngest dog entered. We have high hopes for Ripley to continue in the footsteps of her mother, grandmother and great grandmother. At the present time Ripley has had her first few introductions to Illinois pheasant hunting and she performed remarkably, flushing and retrieving numerous birds. She caught on fast…so far, so good!
Ripley is progressing very well in her handling work ( running her first cold blinds after finishing the swim-by) and is an excellent marking dog.  She is very stylish and eager to please. We  reluctantly decided to sell her as a gundog or competitive dog . The only reason we sold Ripley is that she is an eic carrier and we would rather not go to the trouble of " breeding around" that condition as we do with Sophie. Ripley is a relatively soft dog and does not need much pressure.  She is a nice dog in the house. Ripley had her hips and elbows x-rayed at Dr. Maury Link's in Madison, Wi. on July 15  and they have came back Excellent and Normal so she is set to go.